Atrium Iloilo Shopping Mall.
Atrium Iloilo is located at the heart of Iloilo City and is still one of the city's leading shopping malls. It proudly sprawls between Gen Luna Street and Valeria Street and is home to the Iloilo debut of McDonald's which is one of the most famous worldwide food chains. The ground floor is enamored with the smell of the freshly baked bread and pastries of the Tinapayan bakeshop. Mothers, students, and other shoppers buy their grocery items and school supplies at the Iloilo Supermart Atrium branch and the nearby section for school supplies.
Mallers who like to have a taste of Filipino food can proceed at the second level of the mall as the food court and different restaurants entice the strollers' appetites. The Ocean City and Marina are some of the stalls that can be found in the food court. For foreign visitors who would like to cool off from the Philippine tropical heat, Krystal Ice offers halo-halo. After dining, strollers can mall around boutiques and other novelty item shops at the third floor. Airplane tickets are sold at the third floor.
Day's Hotel is strategically located at the mall's topmost floor.
Balantang Memorial Cemetery
Balantang, Jaro, Iloilo City boasts itself to have Balantang Memorial Cemetery as a national shrine. It is the sole military cemetery founded outside Metro Manila. Its local heroes led by Col.Macario Peralta, Jr. had one of the bloodiest battles in the fight for freedom against the Japanese forces.
Casa Real de Iloilo
Casa Real is the Capitol Building in Iloilo. It was built in 1840 during the Spanish times and was the alcalde-mayor or governor's official residence. The Arroyo Fountain is the former location of the Flagpole which stood until 1927. Jose Zulueta, the governor of the province at that time, remolded the Casa Real in 1960. The colonnade was removed from the original structure of the Casa Real.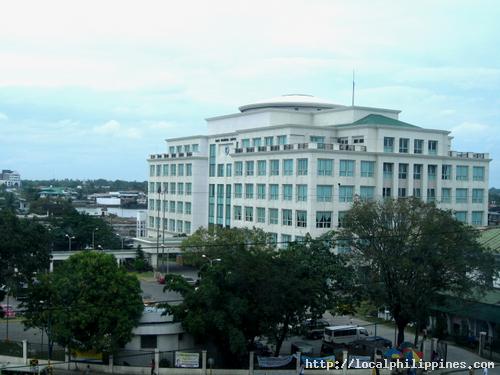 The new Iloilo Casa Real
The capitol was severely damaged due to an unknown source of fire on November 4, 1998 that destroyed half of the entire building. Gov. Arthur D. Defensor initiated the six-storey Provincial Capitol construction and was brought to completion by Gov. Niel D. Tupas, Sr. The structure stands behind the original Casa Real.